Questions regarding our tree services
Q: How long have you been operating ?
A: We opened for business in 2000.
Q: What experience do you have ?
A: The proprietor Scott Murray has been in the industry since 1994. He has a Level 3 Aborists training Certificate from Tafe plus other Professional Tree Climbing Courses.
Q: What area do I have to live in for you to come to our house for a free quote ?
A: We extensively service the Hills / Hawkesbury Districts plus Most Metro Areas, just ask.
Q: What do your services include ?
A: We specialise in all aspects of Arboriculture, including High tree climbing / Removal, Speciality trimming, Crane expertise available, Tree removal, Land clears, Chipping, Stumpgrinding, Mulch Sales, Tree transplanting and supply. If its in the garden just ask we probably service or supply it.
Q: Are you insured against accidents etc….. ?
A: We are comprehensively insured for 10 Million Public Liability plus policy's for our machinery and staff.
Q: Can you assist with sick trees….. ?
A: We can investigate to determine the best course of action.
Q: What is an Arborist.
A: Arborist is trained in the field of Arboriculture and has sound knowledge of tree anatomy. As well as being competent in a range of professional arboricultural practices. Experienced with dealing with potentially dangerous situations such as lowering of large tree limbs or removal of a hazardous tree.
Q: Is a leaning tree unstable?
A: A tree may have developed a lean as it has grown which suggests that its root system has compensated for its unbalanced weight distribution. Trees that develop a lean after strong winds or bad weather should be assessed by a qualified arborist.
Q: When should I prune my tree?
A: Both deciduous and broad-leaved evergreen trees should ideally be pruned in the winter months, while physiological activity is low, therefore least impact on growth and development.
Q: How much of my tree can I cut?
A: The owner of the tree can authorize a trim of no more than 10% of the complete foliage over a period of 2 years to Australian Standards and council regulations. Any other proposed cutting of your tree you are required to gain written approval from your local council. The council has a list of trees that can be removed without approval. Before you trim or remove your tree phone our qualified arborist for your free quote and correct advice for the best possible result.
Q: What is mulching?.
A: Mulching is one of the simplest, inexpensive and very effective ways to improve your tree's health. Mulches are placed on top of the soil surface to maintain moisture. Reduces water loss from soil, minimize weeds and improve soil structure.
Q: why should I prune my tree?.
A: Trees are pruned as a preventative or as a corrective measure to remove hazards, dead & disease infected limbs and increase air & light penetration. This should be performed by a qualified Arborist to retain good tree health, structure and economic value.
TREE MAINTENANCE = PEACE OF MIND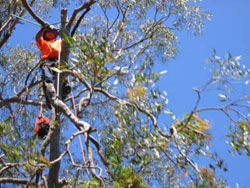 It is important to have a basic tree maintenance program. Part of this is to be aware of your tree's health. Early diagnosis can prevent the impact associated with the loss, removal of diseased trees.
Inspect visually.
Regular inspections can identify and prevent hazardous and costly situations on your property, help identify that your tree is under stress. (Insect and/or borer attack, curled or rolling leaves, early color changes, spots, holes in leaves, abnormal leaf growth, bark or branch injury. Awareness with early diagnosis may prevent MAJOR COSTS$$$$$$$$
Records should be kept when ever work is performed on tree, storm damage, branch or early leaf drop. Any change to soil grade or excavation around tree should not be done without consulting an arborist.
Maintenance pruning every 2 – 5 years on mature trees, shaping and training of young trees and repair pruning of storm damage or large dead limb immediately...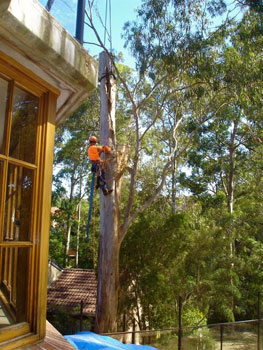 Council Links
http://www.baulkhamhills.nsw.gov.au/
http://www.hornsby.nsw.gov.au/